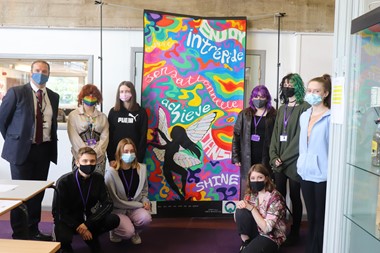 Thiers, Ville Haute en Couleurs
We are proud to announce the unveiling of our banner under the theme - 'Make your colour palette dance.'
Our year 12 students worked hard to design and paint this banner, following the theme 'Make Your Colour Palette Dance'. Their work depicts a graceful fairy, dancing amongst splashes of colour and surrounded by words that are designed to bring the two countries together. 
The project was first launched 8 years ago by Bridgnorth's twin town; Thiers in France, who each year set up an exhibition displaying many painted banners entries. Headteacher Mr Tristham was very keen and excited for our students to get involved, and head of Creative Arts Mrs Bell worked hard to coordinate the project and is extremely proud of the work the students produced. 
We'd like to say well done to Millie Stainsby, Evie Fleming, Sarah Horton, Joel Burgess, Holly Rogan, Addison Parton-Bill, Poppy Elwell and Georgie Hallez for dedicating their time and efforts towards the banner.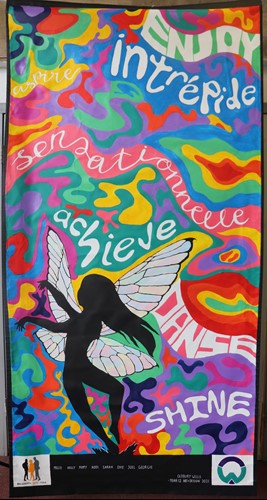 Date Published: 18 May 2021