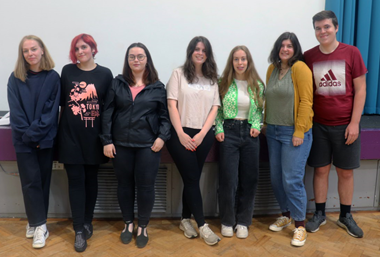 A Level Results Day 2021
Bridgnorth Sixth Form students were all smiles collecting their A-Level results today.
Students at Bridgnorth 6th Form collected their results today and were all smiles as almost all gained places on their first-choice university course or apprenticeship.  Following the most unusual year, grades allocated resulted from Teacher Assessed Grades (TAG's) which were generated using a range of students work across their studies alongside assessments which replaced traditional examinations at the end of their course.  Lee Tristham (Headteacher) said : "Welcoming students back into college this morning was a real privilege. All students have worked incredibly hard under really challenging circumstances, watching the reactions of everyone when opening their results has been a real high point following so many challenges in education over recent months.  Congratulations to all students and thank you to all staff who have provided so much support and encouragement throughout; everyone has been amazing!
Mr Williams, our Director of Sixth Form, said, "I would like to congratulate so many of our students today on some excellent results. The last two years have been unprecedented and this cohort of students have had to deal with a lot of uncertainty and change. I am extremely proud of how they have dealt with this demonstrating an abundance of patience and maturity. Their success has been hard earned and is well deserved. I was thrilled to congratulate Dominic Dewhurst on achieving 3A* grades secured his place at Lancaster University to read Biomedical Science. Dominic will be joined at Lancaster University Abigail Russell who achieved A*AA and will be going on to read Natural Sciences. Twin sisters Eilish and Freya Turner achieved fantastic results, both gaining places at their first choice universities of Salford and Liverpool respectively. 
Mrs Bishell the Head of Sixth Form said, "The diversity of courses and institutions that students have chosen this year reflects the range of skills, knowledge and interests that our students have. It has been really rewarding to see our students aim high and begin to fulfil their aspirations; we wish them all the very best for the future."
Date Published: 11 Aug 2021